As we age, our skin gradually loses its elasticity and firmness, leading to wrinkles and sagging. While aging is inevitable, there are ways to slow down the process and even reverse some of its effects. One such solution is Thermage – a non-invasive treatment that uses radiofrequency energy to tighten and lift sagging skin.
Thermage Skin RejuvenationType
Explanation of Thermage for Skin Tightening
Thermage is a cosmetic procedure that targets the deeper layers of the skin by delivering radiofrequency energy, which heats collagen-rich tissues. The heat causes collagen fibers to contract and stimulates the production of new collagen over time. This results in tighter, smoother skin with improved texture and tone.
Unlike other skin tightening treatments that only target superficial layers of the skin, Thermage penetrates deep into the dermis to provide more significant results. It can be used on various areas of the body, including the face, neck, arms, abdomen, and thighs.
Importance of Skin Tightening
Skin tightening is essential for maintaining a youthful appearance as we age. Loose or sagging skin can make us look much older than we feel or want to appear if left untreated. Sagging skin can also affect our self-esteem and confidence levels.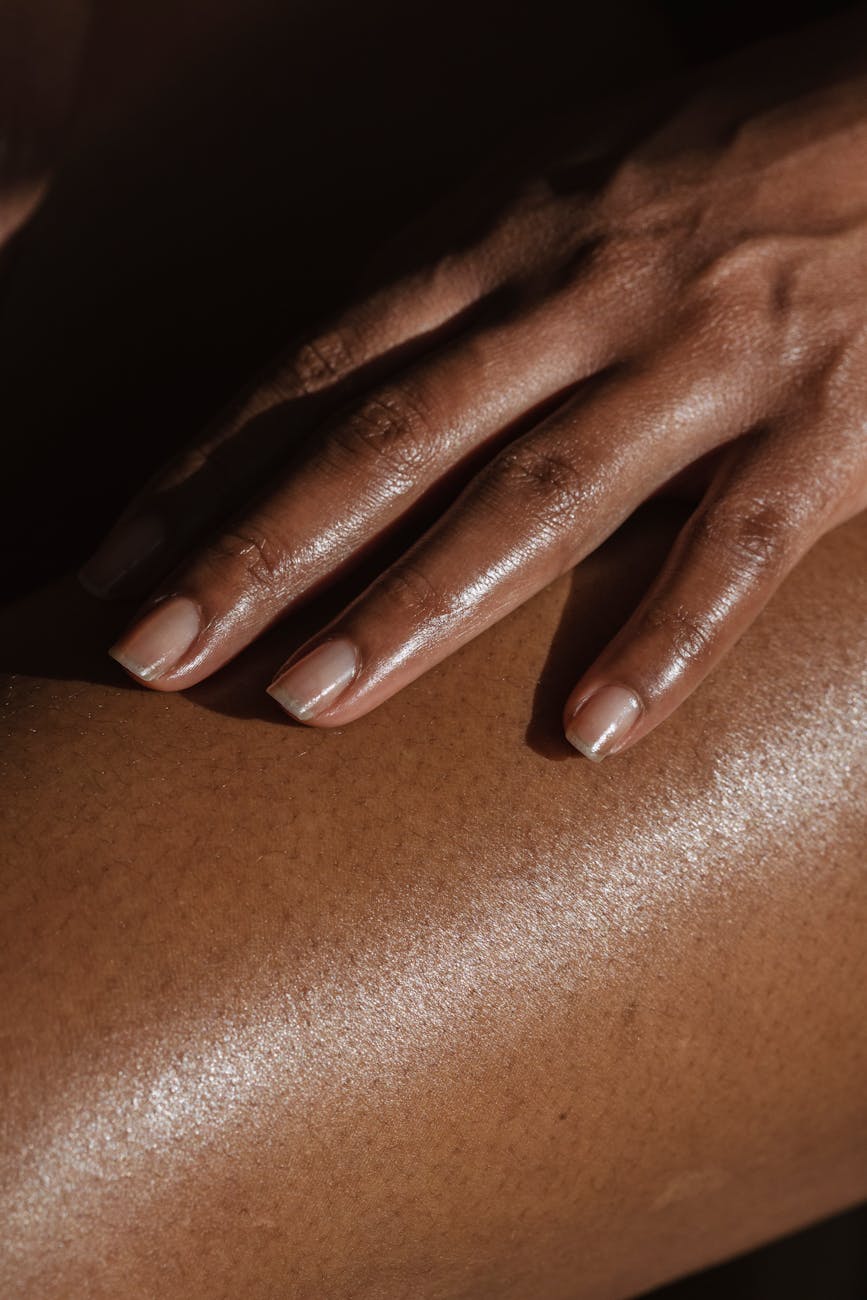 Image by Angela Roma
Moreover, loose skin can cause functional problems such as chafing or rubbing together in areas like underarms or inner thighs that may lead to discomfort while exercising or wearing certain clothes. By undergoing Thermage treatment for skin tightening, individuals can improve their appearance significantly while feeling more comfortable in their own bodies.
The Benefits of Thermage Treatment
One significant benefit of Thermage treatment is its non-invasive nature. Unlike surgical procedures like facelifts which require incisions on your face making it prone to infection and scarring, Thermage doesn't require any cuts or stitches. It is also a relatively pain-free procedure, with most patients experiencing only mild discomfort during the treatment.
The treatment requires no downtime and minimal recovery, making it a popular choice for busy individuals. Furthermore, the effects of Thermage are long-lasting.
While other skin tightening treatments may require multiple sessions or regular maintenance to achieve desired results, Thermage provides significant improvement in just one session that can last up to several years. Thermage is an effective and safe option for skin tightening that can restore your skin's natural elasticity and lift without the risks and complications of surgery.
What is Thermage?
Thermage is a non-invasive cosmetic treatment that uses radiofrequency energy to tighten and lift the skin. This innovative procedure is designed to stimulate the production of collagen in the deeper layers of the skin, resulting in a more youthful and vibrant appearance. Unlike other skin tightening treatments, Thermage can be used on any area of the body where loose or sagging skin is a concern.
Getting Thermage Skin Tightening TreatmentType image caption (optional)
How it Works
The key to Thermage's effectiveness lies in its ability to penetrate deeply into underlying layers of skin without damaging surface tissue. The treatment is designed to target specific areas beneath your outermost layer of skin. During treatment, you will feel alternating sensations of heat followed by cooling as radiofrequency energy is delivered into targeted areas beneath your skin's surface. This process causes immediate tightening and contraction of existing fibers, as well as triggering long-term structural changes in dermal collagen.
Benefits
Thermage offers patients several important benefits over other forms off non-surgical treatments such as injections or surgical facelifts: – Non-invasive: This procedure requires no cutting or incisions. – Minimal Downtime: Patients can return to normal activities immediately after treatment.
– Long-lasting Results: Results can last for up to two years. – Versatility: Thermage can be used on any area of the body where loose or sagging skin is a concern.
Risks
While Thermage is generally considered safe, as with all medical procedures, there are some risks involved. Some patients may experience mild side effects such as redness, swelling and tingling.
More serious side effects are rare but can include blistering or scarring. As with any cosmetic treatment, it is important to discuss potential risks and benefits with your provider before undergoing the procedure.
Who is a Candidate for Thermage?
Age Range and Skin Type
Thermage is an effective treatment for both women and men who want to improve the appearance of their skin. It is primarily recommended for individuals aged 30 years or older, who have mild to moderate skin laxity. However, it is important to note that age alone does not determine candidacy.
The suitability of an individual for Thermage treatment depends on their skin type as well. People with all different types of skin can benefit from Thermage, including those with fair, medium, and dark complexions.
However, it's important to consult with a certified practitioner to ensure that the treatment is right for you. Darker-skinned individuals may be at a higher risk of hyperpigmentation or other complications.
Pre-Treatment Preparation
Before undergoing Thermage treatment, patients should take certain steps to prepare themselves. Firstly, it's important to avoid any medications or supplements that may increase the risk of bleeding or bruising in the treated area, such as aspirin or ibuprofen. Additionally, be sure to stay hydrated and consume plenty of water prior to your appointment.
This will help prepare your body for the heat generated by the Thermage device during treatment. Ensure your skin is clean and free from any makeup before arriving at your appointment.
Post-Treatment Care
After undergoing Thermage treatment, patients should follow some simple steps to care for their skin in order to achieve optimal results. First and foremost – avoid sun exposure!
Sunscreen should be applied liberally throughout the day following treatment. In addition, applying a moisturizer daily can help hydrate your newly tightened skin.
Image by Mikhail Nilov
It's also important not to pick any scabs that might develop after your procedure since this could lead to scarring. It's normal for patients to experience some minor swelling, redness, or tenderness after treatment, but these side effects should subside within a few days.
Applying an ice pack to the treated area as needed can help reduce any discomfort. Overall, following a healthy lifestyle and avoiding excessive sun exposure can help prolong the results of your Thermage treatment.
The Procedure
Step-by-Step Process
The Thermage procedure typically begins with the application of a numbing cream or topical anesthesia to the treatment area. Once the skin is fully numb, the technician will use a handheld device to deliver radiofrequency energy into the deep layers of your skin.
This energy heats up and tightens collagen fibers, causing immediate tightening effects and triggering long-term collagen production. The technician will monitor your skin temperature throughout the procedure to ensure your safety and comfort.
During the treatment, you may feel various sensations such as heat, tingling or pinching as the device passes over different parts of your face or body. However, most patients find Thermage tolerable and painless due to its advanced technology and numbing agents used beforehand.
Duration of Procedure
The duration of a typical Thermage treatment varies depending on the size of the area being treated. A facial treatment usually takes around 45 minutes to an hour while full-body treatments can take anywhere from 2-4 hours.
Larger surface areas take longer because more passes with the handheld device are required for optimal results. However, it's important to note that while Thermage is a non-surgical option that produces results in just one session, some people may require two or three treatments spaced months apart before they achieve their desired outcome.
Pain Management
Thankfully, pain management during Thermage procedure is hardly an issue since it is generally well-tolerated by most people especially with proper numbing agents applied beforehand making it relatively pain-free. For those who do experience discomfort during or after their treatment, over-the-counter pain relievers like acetaminophen are usually enough to provide relief.
Patients should avoid using aspirin products since they can increase bruising risk after their procedure. It's essential that you discuss all medical history with your provider before the procedure, including medications you are taking.
Procedure Overview
Thermage is an innovative skin-tightening treatment that uses radiofrequency energy to stimulate collagen production and improve skin laxity. The procedure is relatively painless and has a short recovery period compared to other invasive procedures, making it ideal for busy individuals who don't have time for long downtime.
While the treatment takes a while to complete, it produces quick and visible results in just one session. It's no wonder that Thermage has become one of the most sought-after treatments for skin tightening among clients looking for safe, effective, and non-invasive solutions at affordable rates.
Results
Immediate and Long-term Results
The results of a Thermage treatment are typically visible immediately following the procedure. Patients will notice an improvement in skin tone and texture, as well as a reduction in fine lines and wrinkles. However, the full effects of the treatment may not be noticeable until several months after the procedure, as collagen continues to regenerate.
One of the main benefits of Thermage is that it provides long-term results. The collagen that is stimulated during the treatment will continue to regenerate for up to six months following the procedure, which means that patients can expect to see continued improvements in their skin over time.
Maintenance Required
While Thermage can provide long-lasting results, it is important for patients to maintain their skin health through proper skincare practices. This includes using sunscreen on a daily basis, avoiding smoking and excessive alcohol consumption, and staying hydrated.
Patients may also choose to undergo additional Thermage treatments over time to maintain their results. A second treatment may be recommended approximately one year after the initial procedure to boost collagen production and further improve skin tightness.
Before and After Pictures
Type image caption (optional)
Many clinics offering Thermage treatments will provide before-and-after photos of previous patients who have undergone the procedure. These photos can give patients an idea of what kind of results they can expect from a Thermage treatment. It is important for patients to remember that individual results may vary based on factors such as age, skin type, and overall health.
Additionally, before-and-after photos should not be used as a guarantee or promise of specific outcomes. Thermage clinics should also provide prospective patients with realistic expectations about what kind of improvements they can expect from a treatment based on their unique characteristics.
Costs and Availability
Thermage is considered one of the most expensive skin tightening treatments available. The cost of the treatment is largely dependent on the area being treated, with smaller areas such as the neck or hands costing less than larger areas such as the abdomen or thighs. On average, a single treatment can cost anywhere from $1,000 to $5,000.
When comparing Thermage to other skin tightening treatments such as Ultherapy or laser treatments, it is important to consider the long-term cost-effectiveness of each option. While Thermage may have a higher upfront cost, it provides longer-lasting results compared to other treatments that require multiple sessions over time.
Cost Comparison with Other Treatments
The cost of Thermage can be compared with similar skin tightening treatments such as Ultherapy and laser treatments. While these options may have lower upfront costs, they typically require multiple sessions over time to achieve results comparable to a single session of Thermage.
Ultherapy is an ultrasound-based skin tightening treatment that can range in price from $750-$4,500 per session depending on the area being treated. Laser skin tightening treatments also range in price from $1,000-$4,000 per session depending on the type of laser used and the size of the treatment area.
Clinics Offering Thermage
Thermage is offered at various clinics across North America and around the world. It is important to research and choose a reputable clinic with experienced practitioners when considering undergoing this treatment.
Clinics offering Thermage will typically provide information about their pricing options online or over-the-phone consultations prior to scheduling an appointment. Some clinics may offer package deals for multiple sessions or combine Thermage with other cosmetic procedures for a more comprehensive result.
When choosing a clinic for Thermage, it is important to read reviews and ask for recommendations from friends or family who may have undergone the treatment. It is also recommended to schedule consultations with multiple clinics to compare pricing, practitioner experience, and overall customer service.
Summary of Key Points
Thermage is a non-invasive skin tightening treatment that works by using radiofrequency energy to stimulate collagen production in the skin. It is an effective and safe option for those looking to tighten their skin without undergoing surgery.
Thermage is generally recommended for individuals between the ages of 30 and 60 who have mild to moderate sagging or loose skin on their face, neck, or body. The procedure typically takes around 60-90 minutes depending on the treatment area and produces long-lasting results.
While Thermage does have some minor risks and limitations, such as temporary swelling or redness, these are typically short-lived and can be minimized with proper post-treatment care. Overall, Thermage is a popular choice among individuals looking to rejuvenate their appearance without going under the knife.
Future Developments in Skin Tightening Technology
As technology continues to advance, we can expect even more breakthroughs in non-invasive skin tightening treatments like Thermage. One area that shows promise is the use of ultrasound technology to increase collagen production in the skin.
Ultrasound therapy works by delivering energy deep into the dermis layer of the skin, which triggers a natural response from the body to produce new collagen fibers. This can result in tighter and smoother-looking skin without any downtime or incisions.
Another exciting development is the use of lasers for skin tightening treatments. Laser technology has come a long way in recent years, allowing for more precise targeting of specific areas on the face or body.
This means that patients can achieve customized results based on their individual needs. Overall, we can expect continued innovation and improvement in non-invasive cosmetic procedures like Thermage as technology advances and new techniques are developed.
The Importance of Choosing a Qualified Provider
While non-invasive cosmetic procedures like Thermage are generally safe when performed by qualified providers, it is important to do your research and choose a reputable clinic. When researching providers, make sure to look for credentials, experience, and reviews from previous patients.
You should also ask about the specific technology and techniques used during the procedure to ensure they are up-to-date and effective. By choosing a qualified provider, you can ensure that you will receive safe and effective treatment that produces natural-looking results.
Final Thoughts
If you are considering skin tightening treatments like Thermage, it is important to approach the decision with realistic expectations. While Thermage can produce impressive results without surgery or downtime, it is not a magic solution for all types of skin issues.
By choosing a qualified provider and following proper pre- and post-treatment care instructions, you can achieve significant improvements in your appearance with Thermage. Additionally, as new technologies continue to emerge in the coming years, we can expect even more exciting developments in non-invasive cosmetic procedures.